eumaas

Klezmer Shogun
Posts: 22783
Joined: 15 Jun 2008, 8:10pm
Location: outer space
---
Kory

Unknown Immortal
Posts: 8097
Joined: 17 Jun 2008, 1:42pm
Location: In the Discosphere
Not sure why this line is stuck in my head today, but it sure is: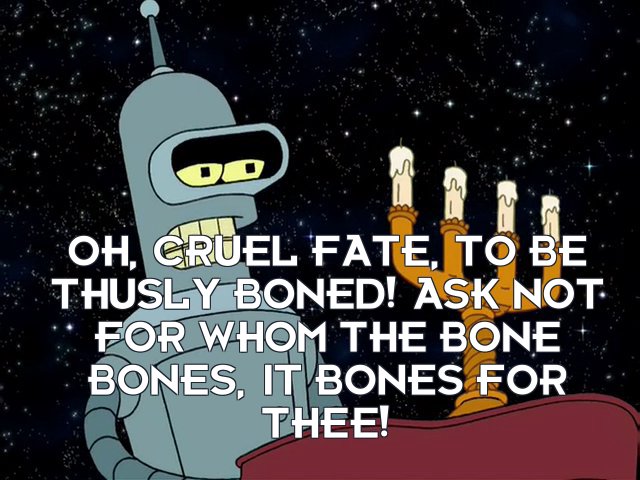 Inder:
Absolutely. Here's another collection of words:

Table salt (spoon hinge)
Octopus (Ukraine)
St. Petersburg (arms)
Ginger beer (cauliflower)
Pat Sajak (PSak)
Lamp post (self evident)
Florida Timeshare (ditto)
Heraclitus (EMI)
Developers (Developers Developers)
Boogie With Your Children
---
Kory

Unknown Immortal
Posts: 8097
Joined: 17 Jun 2008, 1:42pm
Location: In the Discosphere
I'm watching Spike Lee's She's Gotta Have It and I'm wondering if the scene where Nola invites her three boyfriends to Thanksgiving dinner at all influenced Fry's relationship with Colleen in Billion Backs. Is there a previous pop culture reference to a poly relationship with the same comical sense?
Inder:
Absolutely. Here's another collection of words:

Table salt (spoon hinge)
Octopus (Ukraine)
St. Petersburg (arms)
Ginger beer (cauliflower)
Pat Sajak (PSak)
Lamp post (self evident)
Florida Timeshare (ditto)
Heraclitus (EMI)
Developers (Developers Developers)
Boogie With Your Children
---
Who is online
Users browsing this forum: Google [Bot] and 4 guests